Race History
How the Women's Eights Head of the River Race began and has grown – by A. Southey
The first women's eights race over the Mortlake – Putney course was in 1927 (presumably inspired by the first men's HORR in 1926) between Ace and Weybridge LARC which included the legendary Amy Gentry. This was a side by side race as only two crews had entered, Weybridge winning in a borrowed boat from Thames RC. Read The Daily Express's recap of the first race here. The Pathé News archives feature this race and you can watch the footage here.
Please note: This video does not have sound.
The race was repeated in 1928 with the same result, however in 1929 Alpha joined in and won. (Alpha was formed after a split with Ace in 1927.)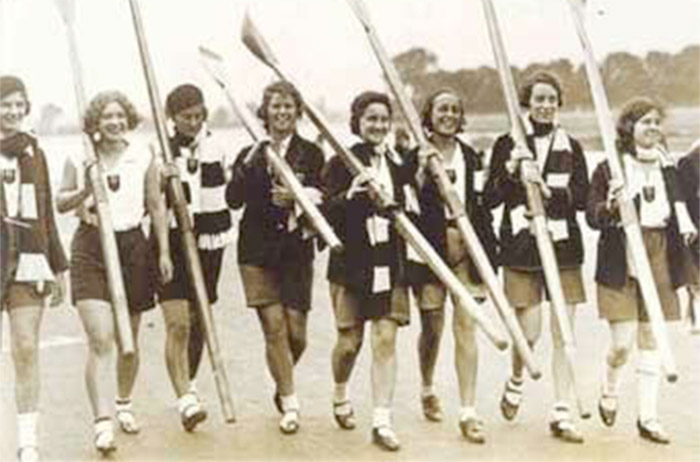 By 1930 the entries had risen to five, so it became a processional event. Thus was founded the Women's Eights Head of the River Race, held over the 4 mile 374 yards Mortlake to Putney course, and won that year by Furnivall SC (then a women's club) founded by Dr Furnivall.  The event continued until the outbreak of war in 1939.
In 1950 when the event was restarted it was recommended that the course be shortened to 2 miles, as it was felt that after the war years of rationing, etc., the 4.25 miles would be too much. It can be seen from the graph that the level of entries grew slowly from the original 5 to 12 by the mid 1950s and then declined to only 6 by the mid 1960s.
Entries waxed and waned into the mid 1970s, with still less than 20 crews. However something we must remember is that sectional boats were just starting to be used in the late 1960s and early 1970s and trailing long distances was a new experience for most clubs. (Clinker-built eights could not be split and needed converted lorries to transport them; in the summer converted coal lorries were hired, so travelling more than a few miles was very expensive).
The seventies saw a number of major boosts to women's rowing: the National Rowing Championships starting in 1972; the implementation of a Women's National Squad; the introduction of women's rowing into the 1976 Olympics; some of the major regatta's now starting to offer women's events; and men's clubs opening their doors to women.
I suspect that the increase in the entries in the Women's Eights Head, which has risen ten fold in the past 25 years is a direct reflection on the way that women's rowing has taken off in that time. (Note: 27 in 1977 to 270 in 2003)
The data also shows that in the last 15 years a significant factor has been the increase in the university crews; this probably follows the associated increasing trend in the number of people attending university over the same period.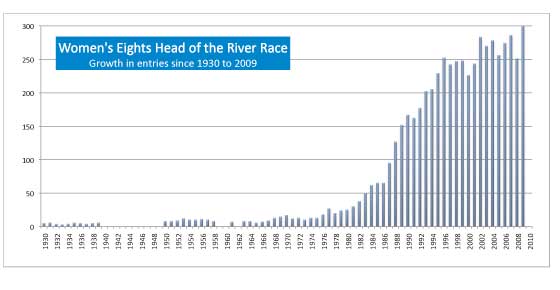 If you have any old photos or stories you would like to share, please send them to press@wehorr.org
Thank you